Love 'em or hate 'em…that's how people seem to feel about fresh figs.  There's a limited window of time that figs are ripe in Seattle, and if you are fig lover you should plant 'Desert King' Fig to add to your edible landscape .  This is a semi-cold tolerant  green skinned fig that has pink flesh and ripens in late July/ early August. No need to peel….just pick warm straight off the tree into your mouth.  Mmmm!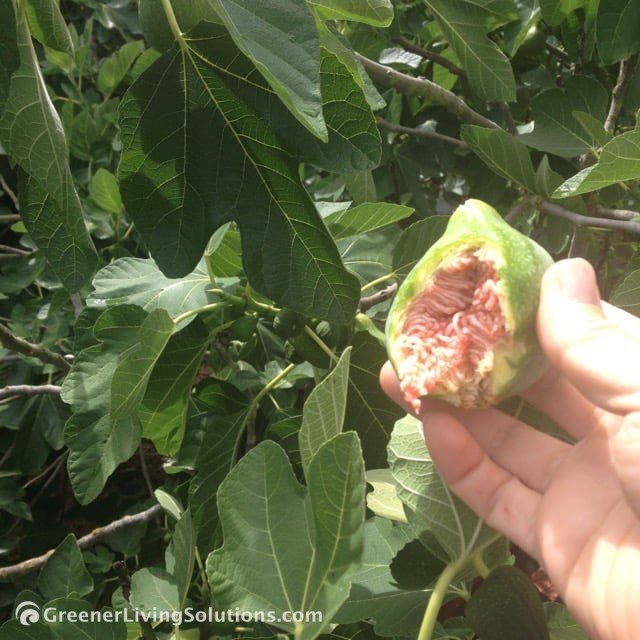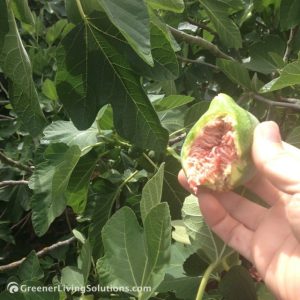 We've been growing our Desert King in our garden for about 20 years and it produces more figs than we can use. You can buy this tree at speciality nurseries including Raintree Nursery, which has mail order.  http://www.raintreenursery.com/Desert_King_Fig_D310.html
Its a great additional to your edible landscape and easy to grow.  I keep ours pruned at about 15′ ht x 15′ wide, so you'll need enough room to fit this in.
There are some tricks to pruning this correctly, since it fruits off last years growth.  City Fruit and other organizations offer pruning classes.https://www.cityfruit.org/learn  Its also important to plant Desert King in a sheltered but full sun location, since it can get nipped by cold winters.  Ours is on the south side of the house, where it can get reflected heat to help with ripening.  Only downside to consider is that the over ripe fruit can make a mess below, so learn from our mistake of planting over our deck which get fig bombed every year.
You can't buy Desert King fruit in the store since it has a short shelf life. Only the home grower can enjoy these. So plant, gloat, and share!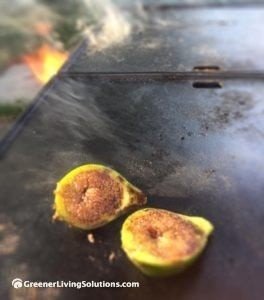 I've got a few friends who line up every year waiting for the Big Fig moment. Try it grilled with stuffed feta and balsamic vinegar drizzle. Happy Figgy Summer!